Boat excursions and transfer
Lotsbåten (The Pilot Boat)
With our brand new boat named "Lotsbåten" (the pilot boat) we offer fast transfer to/from the mainland, customized excursions, seal safari, deep sea fishing, water skiing or other adventures. We grew up in these waters and we know all the secret places and will navigate you securely through our stunning archipelago

Lotsbåten is the fastest boat on the island (45 knots) and all our skippers of course have the double certification needed for this type of boat. But we never takes risks and we never drive in such a way that our passengers feel uncomfortable.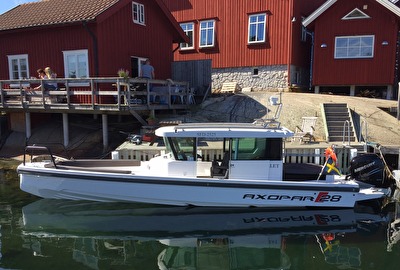 Private transfer
Käringön-Hälleviksstrand (max 8p) - 700 kr + 100 kr/person
Hälleviksstrand-Käringön (max 8p) - 700 kr + 100 kr/person

Käringön-Tuvesvik (max 8p) - 800 kr + 100 kr/person
Tuvesvik-Käringön (max 8p) - 800 kr + 100 kr/person

Prices are 25% higher after 18, 50% higher after 21, double from 22.30-06.30 and 50% higher from 07-09
Luggae: One suitcase and one hand-luggage per person is included. Extra luggage costs 50 kr/piece.
Pets cost 50 kr.

Seal safari and lighthouse visit
Måseskär and round Käringön - 1,5 hours - 395 kr/person
(min 1500 kr)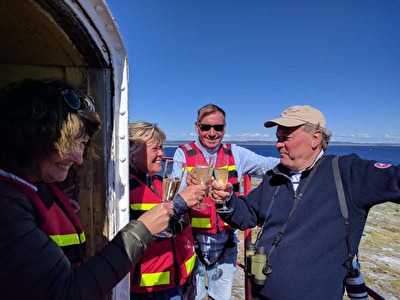 Evert Taube
Käringön - Stocken - Gullholmen - Grundsund - Fiskebäckskil - Bassholmen - Malö Strömmar - Måseskär - Kråkesunds gap - Mollösund - Käringön
3 hours / 50 NM - 5900 kr

The classics of Bohusläns
Käringön - Gullholmen - Lysekil - Smögen - Fjällbacka - Grebbestad - Väderöarna - Sotenkanalen - Käringön
8 hours / 100 NM - 8900 kr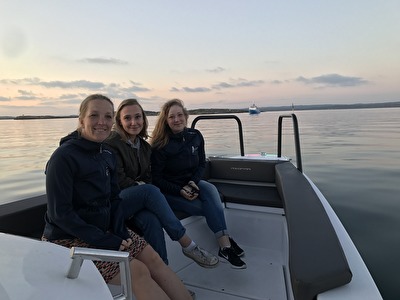 Extraordinary kayaking waters
Kayak
A completely different experience in a completely different pace you get if you go kayaking in the shallow waters between Käringön and Gullholmen. Make a stop at the sandy beach of Vallerö or check out potholes at Hermanö. Close contact with seals is guaranteed. If wether permits you go out through Vallerö strait and sniff a bit on the big ocean - free water until you reach Scotland...

In cooperation with Bohus Kayak, we provide guests with the possibility to rent a kayak on Käringön. We have two kayaks available and, of course, all gear that you need, such as life vests, sprayskirt, paddles and a map, is provided as well. You don't need any experience - everyone can paddle!

Terms & Conditions