Alle unsere Zimmer haben eine wundervolle Aussicht
Unsere Zimmer sind individuell in einem hellen, romantischen Stil eingerichtet. Alle Räume verfügen über einen hohen Standard an Möbeln und Ausstattung. Die Zimmer sind ruhig gelegen und mit erstklassiger Belüftung und Brandschutz ausgestattet. Alle Räume haben komfortable Doppelbetten und ein komplett gefliestes Badezimmer mit Fußbodenheizung. Wir haben die Fernseher aus den Zimmern entfernt, da wir glauben, dass du deine Zeit auf Käringön ohne fernsehen verbringen möchtest.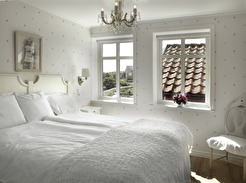 Signe hat romantische Rosentapete, befindet sich im Erdgeschoss am nächsten zum Meer und ist behindertengerecht mit breiteren Türen und angepasstem Badezimmer.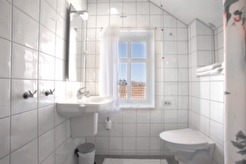 Greta liegt im ersten Stock und hat einen schönen Balkon mit herrlichem Blick auf den kleinen Hafen und den Sonnenuntergang.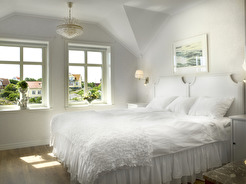 Olga ist das hellste Zimmer des Hotels, befindet sich im ersten Stock und bieten einen schönen Ausblick in den Süden der Insel und auf unsere private Anlegestelle direkt darunter.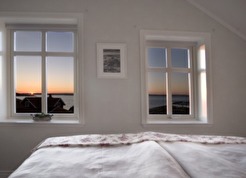 Aurora ist die Morgendämmerungs-göttin. Das Zimmer liegt im Obergeschoss und man kann im Bett liegend den Sonnenaufgang über den Käringönfjorden beobachten.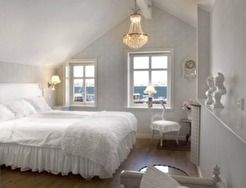 Elin ist unsere Mini-Suit und befindet sich im obersten Stock mit einem fantastischen Blick auf die Hafeneinfahrt. Das Zimmer verfügt über ein antikes Sofa, das als zusätzliches Bett für Jüngere verwendet werden kann.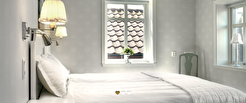 Astrid befindet sich im Erdgeschoss. Das Zimmer verfügt über eine große Terasse Richtung Westen, auf der man den Blick auf den schönen, kleinen Hafen in der Abendsonne genießen kann.

We take our guest privacy very seriously and apply a very stric policy. Our DPO (Data Protection Officer) is Klas Wimmerstedt

Collection and storage of personal data
We only collect personal data needed for lawful reasons in order for us to be able to deliver the hotel stay in a safe and legal way for both us and the guest.

As we only use personal data for the purposes mentioned in the point above we assume the guest gives consent by a clear affirmative action (entering their own personal data by themselves and confirming the reservation by pressing a button in the system).
For the reason above we never accept reservations by walk-in or by phone. We require all reservations to be made either directly in our reservation system on our website or through third-party booking channels (e.g. booking.com or Expedia).

We collect the following personal data: name, address, phone-number, e-mail address, ID-number/passport number and credit card data

We never collect personal data for accompanying children under 16.

The only place we store personal data is in our booking system, which is PCI compliant and uses https. Our software supplier, Sirvoy, is contractually obliged not to disclose any of our data to third parties without us specifically asking for it. We only store personal data until three months after check-out of the guest in line with Swedish legislation. Three months after check-out the personal data is deleted.

Any incident related to data breach or theft of data is immediately reported Privacy Commission.

Usage of personal data
We only use personal data to be able to deliver the hotel stay in a safe way for both us and the guest and in line with Swedish legislation
We will never use personal data for marketing purposes
We will never use personal data for profiling purposes
We will never sell or use personal data that we have received to a third party

Guest data access requests
If a guest asks for their personal data, we will immediately provide it free of charge
We actively communicate which personal data we store about the guest to the guest both through the booking confirmation and in the arrival information. The only exception to this rule is credit card information which we only send encrypted and only upon specific request.